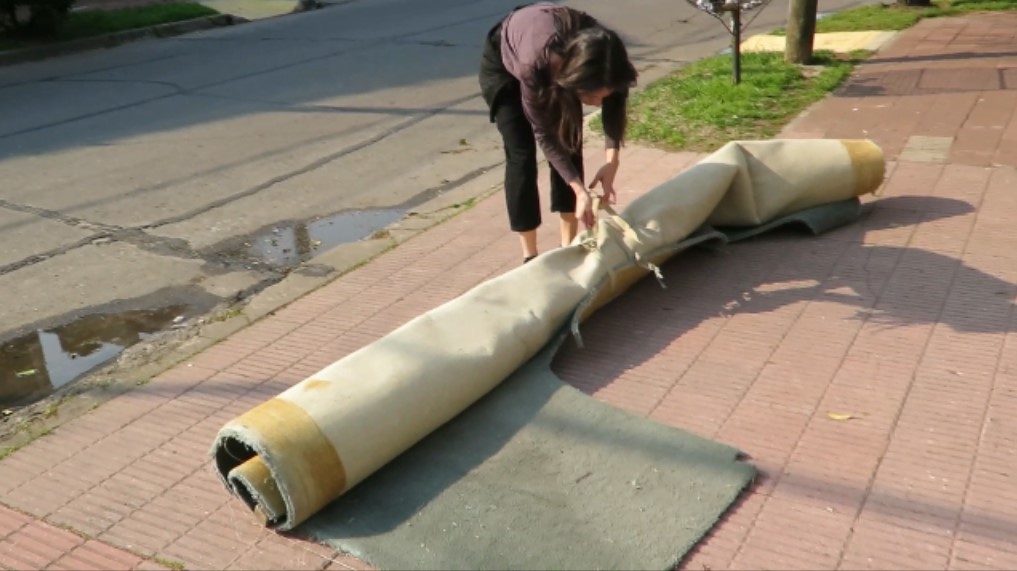 El Peso Del Alivio, 2018
Intervención urbana - performance.
Registro de video realizado por Fabia Nottage y Catalina Cossalter.
Edición por Valeria Rovatti.
Duración 00 : 03 : 28
Click aquí para ver el VIDEO
.
El Peso Del Alivio reflexiona sobre el imaginario del hogar, los espacios que habitamos y los objetos de pertenencia en ellos inscriptos. Camino por el barrio con un rollo bajo el brazo. Arrancada de mi casa, desprendida de aquella superficie y enrollada hacia adentro, la alfombra señala otro tránsito y plantea otra vivencia.
El corrimiento producido por el objeto despojado de su función original, así como el paso del espacio privado al público, me ayuda a indagar y re-pensar otros modos posibles de vincularme con lo conocido.
---
The Weight Of Relief, 2018
Urban intervention - performance.
Action registry made by Fabia Nottage and Catalina Cossalter.
Edition by Valeria Rovatti.
Duration 00 : 03 : 28

Click here to watch VIDEO.
The Weight of Relief reflects on the imaginary about home, the spaces we inhabit and the objects of belonging inscribed in them. I walk through the neighborhood with a roll under my arm. Torn from my house, detached from that surface and rolled inward, the carpet points another transit and another experience. The shift produced by the object stripped of its original function, as well as the passage from private space to the public, helps me to investigate and rethink other possible ways of connecting with what is known.